2018/09/24
Vycon introduces its latest designs…the alluring Divine Incline and Divine and the charming Savannah.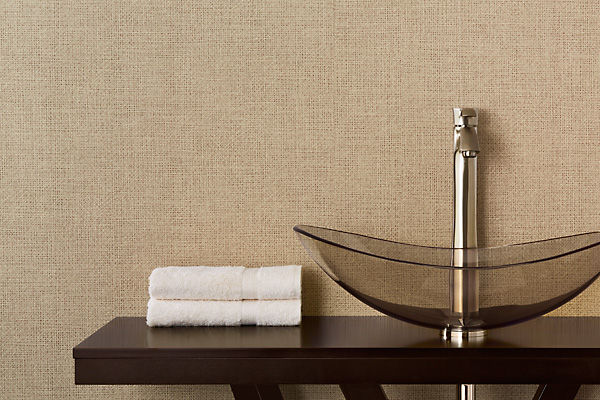 DIVINE
Texture is everything in Divine. This spirited weave imparts a smart, chic look for your space, with its soft lines gilded with metallic touches. The perfect match to Divine Incline, its mid-scale graphic coordinate, Divine offers 24 hues. View swatches.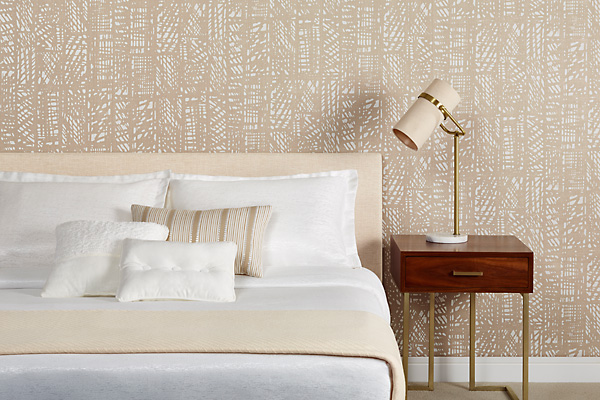 DIVINE INCLINE
Rectangular boxes filled with slanted diagonal strokes creates the fun, quirky graphic of Divine Incline. This mid-scale pattern adds a touch of mystery as you peek through its layers to the chic ground of Divine. Divine Incline has 12 colors that coordinate with Divine. View swatches.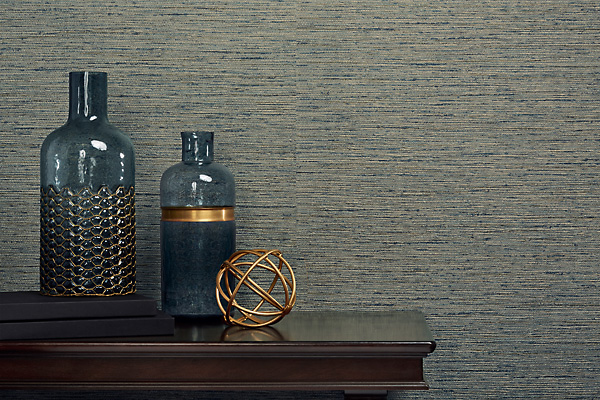 SAVANNAH
Let the warm winds and southern charm of Savannah set the mood for this modern chunky grasscloth. Color mixes flicker across the strands of Savannah offering effortless accent colors. Grazing the plains of this captivating pattern are 18 matte and metallic SKUs such as Cobble Street, Magnolia, and Spanish Moss. View swatches.
---
2018/02/22
Angles, Angles everywhere….Vycon Wallcovering previews its next introductions.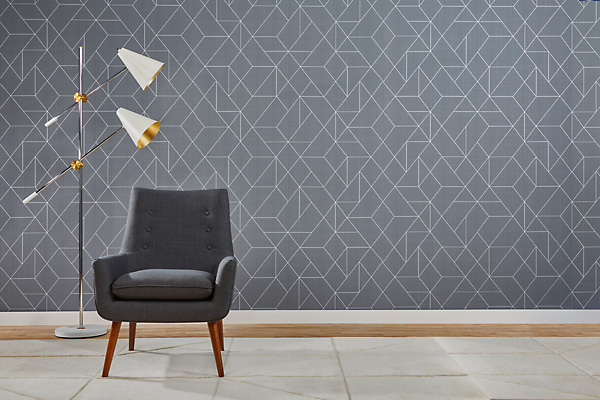 ANGLES MAX
Resembling its name, Angles Max is a large-scale geometric that makes a statement in any space. This design features thin lines for a clean modern look. 13 hues are a mix of contemporary neutrals and brights and share colors with its companion, Angles, and coordinate Angles Silk. View swatches.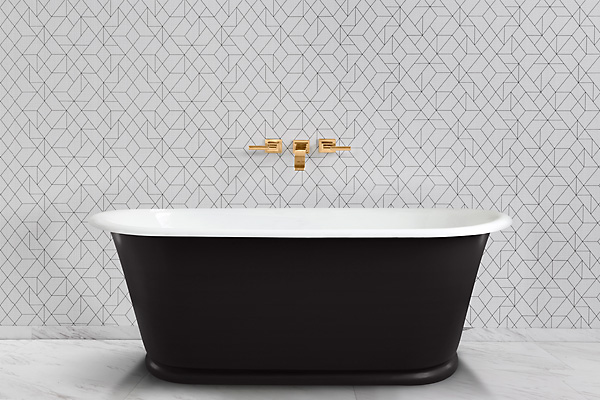 ANGLES
Joining the linear trend, Angles is a mid-scale contemporary graphic with just the right amount of edge. This design is smaller in scale then its companion, Angles Max, and coordinates with Angles Silk. View swatches.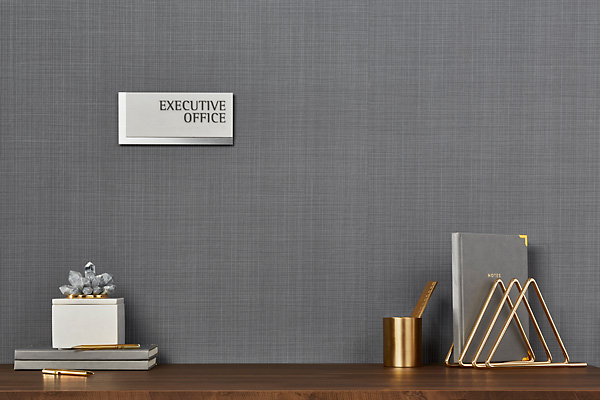 ANGLES SILK
Subtle bi-directional contrasts in Angles Silk blur the lines between a linen and silk appearance. Mid-century influences are present in the 24 colors that coordinate with Angles and Angles Max. View swatches.
---
2017/11/15
Vycon EVOLUTION introduces 5 new patterns, which includes two ARTISTE designs.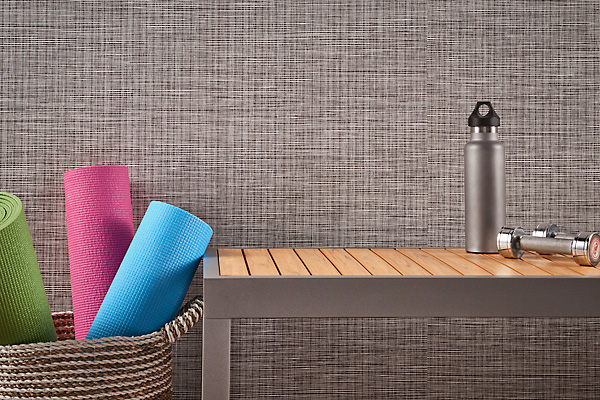 SASS-A-GRASS
Find a grasscloth with spunk in Sass-A-Grass. Pops of color weave through neutral grounds creating a mid-scale grid overlay. This twist on a classic pattern showcases 25 unexpected colors such as Foxtrot, Wild Lavender and Poppy Field. View swatches.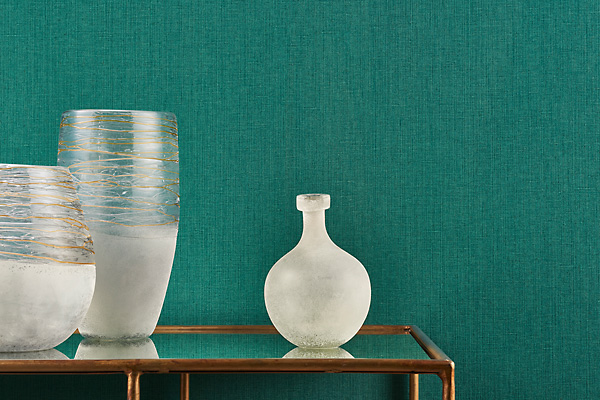 PANACHE
Classic linen meets mid-century colors in Panache. A fresh take on this popular texture, multiple hues in Panache's 24 color offering pair with each Panache Plaid perfectly. Pattern selection for adjoining areas is a breeze with this long color line which features Fairy Dust, 24 Karat and Fireglow. View swatches.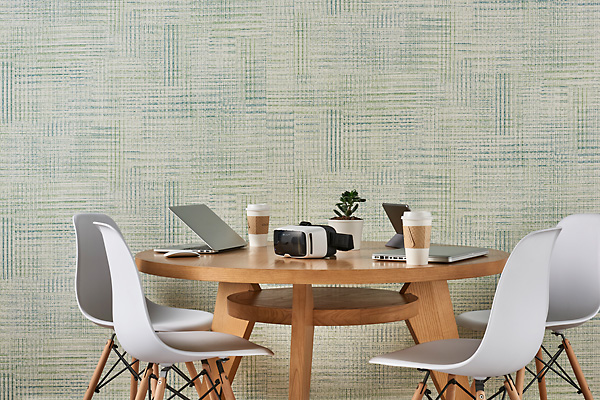 PANACHE PLAID
Reimagine plaid with Panache Plaid. A multi-grid asymmetrical design featuring a mix of neutrals and retro colors gives this traditional checkered pattern a modern approach. Get into the groove with 12 hues that pair with its linen companion, Panache. View swatches.
Vycon is proud to premiere its first ARTISTE patterns, Patina Stone and Patina Stripe.
The French term for craftsman, ARTISTE, is a new category of artisan-quality, layered wallcovering. This technical breakthrough and innovative process reveals a hand-crafted look, with multi-tonal, immersion-washed, and strong dimensional qualities. Exceeding Type II performance standards, ARTISTE exemplifies beauty and durability.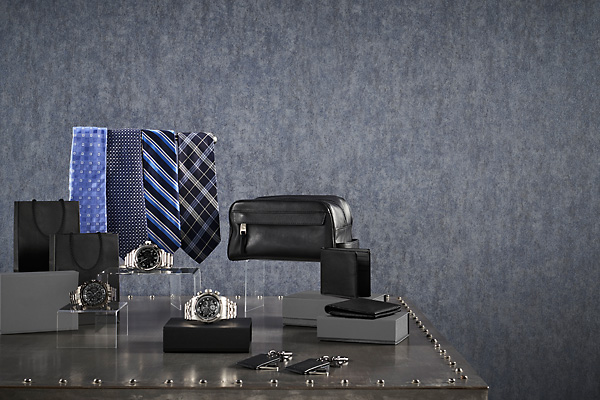 PATINA STONE
Patina Stone mimics the artisan techniques used by master craftsmen. The essence of weathered, layered stone can be seen across the 18 colorways that coordinate with Patina Stripe. View swatches.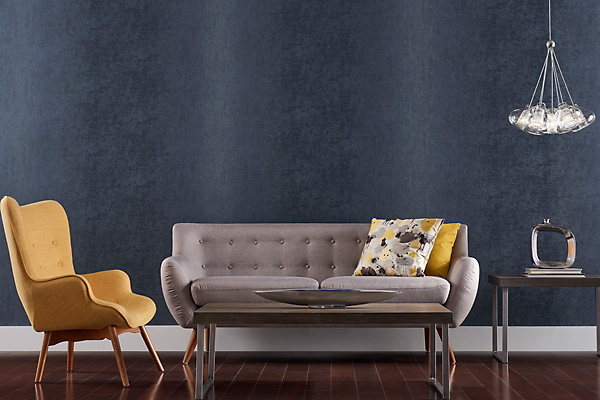 PATINA STRIPE
Make a statement with Patina Stripe. See the impact of a large-scale vertical design and the subtle sophistication of aged stone and ombre effects all in one. The exquisite uniqueness is apparent in the 8 hues that partner with Patina Stone. View swatches.
---
2017/1/25
Weave your way through Entwined and Twine from Vycon.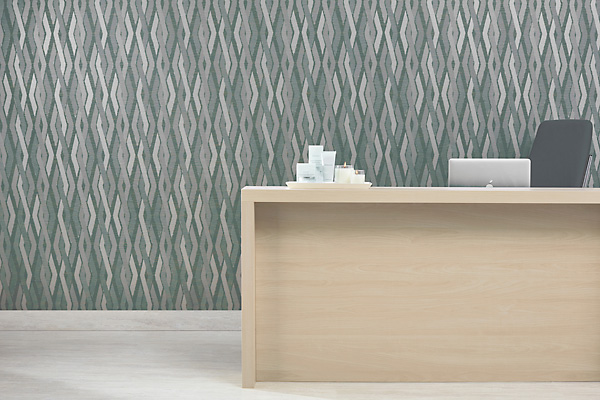 ENTWINED
Chain links jump off the wall in Entwined. The illusion of dimension is emphasized by multi-tonal colors tangled together in this large-scale design. Nine bold and elegant colorways such as French Twist, Wicked Grooves and Platinum Waves, match perfectly with Twine. View swatches.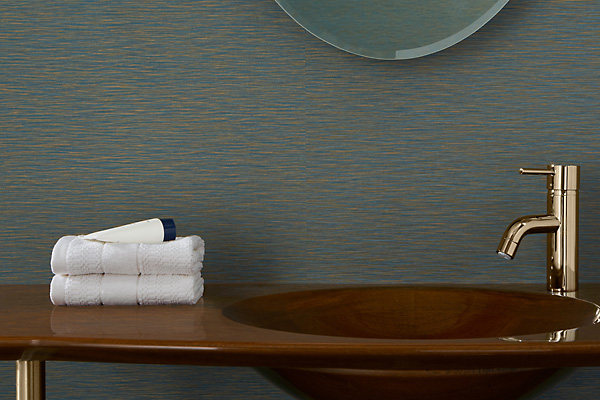 TWINE
Delicate horizontal threads are woven together in Twine. Twisted strands touched with metallic resemble the luxury of finely spun silk. Ivory Spool, Cashmere and Silver Stands are just a few of the 24 colors that blend with its coordinate, Entwine. View swatches.
Connect with Entwined and Twine.
---
2016/11/02
Vycon Wallcovering releases Woodland Block, Woodland and Reflection.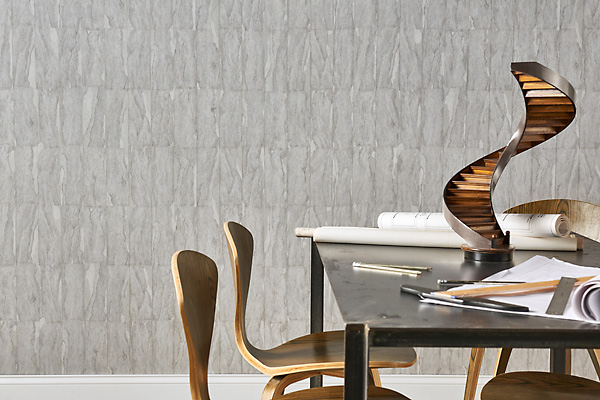 WOODLAND BLOCK
Inspired by nature's intricate, unpredictable patterns of bark, Woodland Block frames the feeling in rectangular sections. The organic spaces are filled with metallic, adding to the overall texture. Cerused Ash, Grey Acacia and Butternut highlight the seven colors that pair with Woodland Block. View swatches.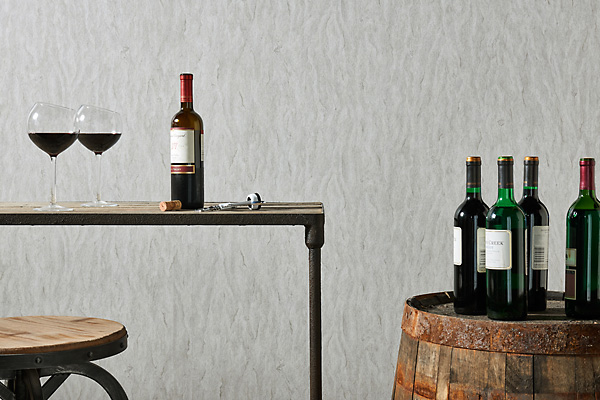 WOODLAND
Imagine walking in a tree lined forest and you'll find Woodland. Mimicking the flowing grain of bark, metallic peeks through 18 natural colors, such as Sycamore, Jasper and Hemlock, which coordinate with Woodland Block. View swatches.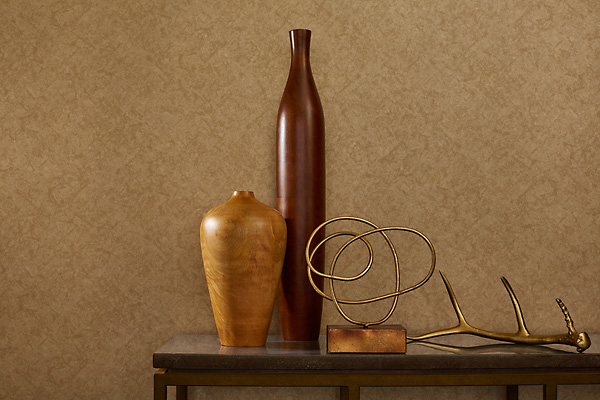 REFLECTION
Mirror, mirror on the wall, Reflections is the fairest of them all. Reminiscent of smoky antique mirrors, layered reflective qualities blend with a mottled texture. Catch a glimpse of Ever Young, Snow White and Wicked Envy, some of the 24 spellbinding hues. View swatches.
---
2016/09/01
Vycon introduces, Safari Sun and Safari, its latest exploration.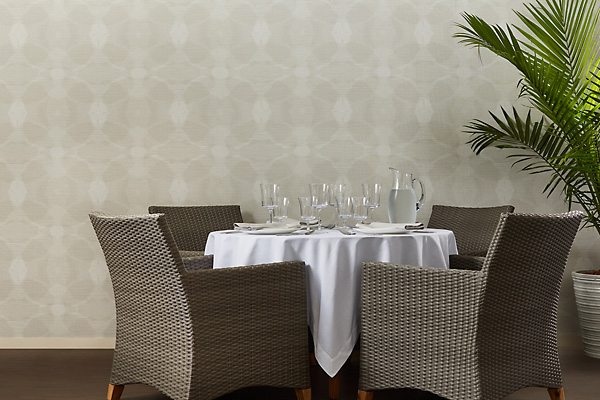 SAFARI SUN
Safari Sun is tribal chic! A layered mirage is created by the essence of the solstice sun and woven jute texture. Bask in the global sophistication of six monochromatic colors touched with metallic in this large- scale design. View swatches.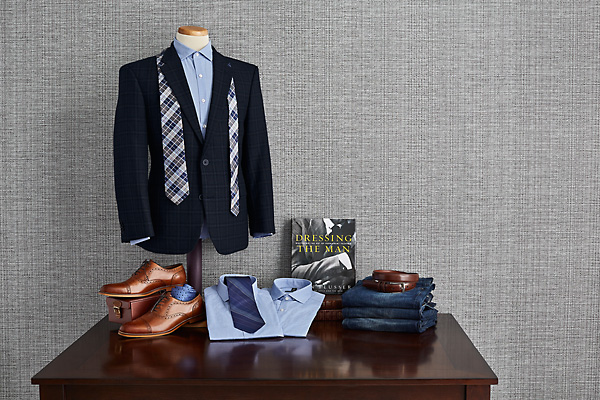 SAFARI
Chunky weaves found in worldly exotic markets inspired Safari. A wide range of natural fibers, such as raffia and sisal, evoke thoughts of traditional straw hats. Nineteen desert-inspired colors mimic hand-dyed neutrals and pairs with Safari Sun. View swatches.